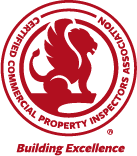 We service the following counties in TN:
Bedford, Cannon, Cheatham, Coffee, Davidson, Franklin, Grundy, Lincoln, Marshall, Maury, Robertson, Rutherford, Sumner, Warren, Wilson and Williamson!
Buying or renting a new office space or warehouse is a big decision that will affect not only you but the well-being of your business and employees. Many think of hiring a company to inspect their home rather than their place of business. However, many issues that could come up on a home inspection could also be evident at your office or warehouse. Depending on the age and location of the building, you could face issues that threaten the safety of you and those you work with.
People spend most of their time at work, so as an employer, you should do everything you can to ensure your employees' work environment is safe, clean, and comfortable. Issues like mold, asbestos, and radon are not exclusive to homes and could be an issue in the building you plan on purchasing. Asbestos and radon can be toxic, so it is essential to know if they are present in your place of business to protect the health of your employees.
Aside from environmental factors, a commercial or multiplex inspection can inform and prepare you for future repairs that need to be made. Our multiplex and commercial building inspections provide a comprehensive, in-depth report of any defects found in buildings such as offices or warehouses. Our professionals look for issues in structural components, mechanical systems, electrical systems, plumbing, heating, roofing, and more. Premier Home Inspections is also licensed to inspect commercial buildings for safety and fire protection, so you can ensure that your employees and property are safe and secure.
Premier Home Inspection can help you in your search for a new commercial or multiplex building. Fill out our service request form to schedule your inspection.
Premier Home Inspection
6001 Jackson Square Blvd.
Suite 500
La Vergne, TN 37086
615-481-7293 Office
Office Hours:
Monday thru Friday: 9:00am to 5:00pm
Inspections by Appointment Only
Our team is experienced, licensed, and insured - together, we have a completed over 15,000 home inspections.
EXPERIENCED - LICENSED - INSURED
We are members of: National Association of Certified Home Inspectors (NACHI) National Environmental Health Association- certified Radon tester (NEHA) Rutherford County Chamber of Commerce Middle Tennessee Association of Realtors (MTAR) Women's Council of Realtors (WCR) Divorce This House certified inspector- http://divorcethishouse.com